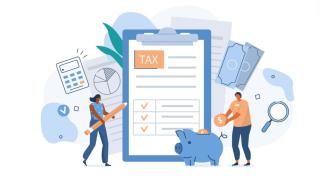 Affected by winter weather? How it could change tax deadline for you.
Market update:
February markets ended with a whimper.  Equity markets declined and interest rates resumed their climb both reversing trends from January.  Economic uncertainty continues with the glass half full or half empty depending on what data you look at. Consumer spending as well as consumer confidence are slowing. Late payments on auto loans and credit card debt are increasing. Inflation indicators are reading higher than markets were expecting. 
 On the other side, the employment market continues to look strong and indications of a recession are not at all clear. One fact is true and that is US Treasury securities are offering yields at one year of 5% and 10 years for the first time since a year ago which was the first time yields reach that level in a decade. 
 The yield curve remains inverted at levels that have typically been associated with a recession. Go figure,  In the meantime parking money in laddered US Treasury securities is a safe haven from market volatility.  Also opportunities for 5% over the longer term are available in the taxable investment grade municipal bond market.  Locking in these higher rates for a longer term with a ladder is attractive  because when rates do decline, those higher rates will disappear.  
Tax Season:
News from the IRS this week for counties declared emergency disaster areas in California because of weather and floods is that filing deadlines for federal taxes have been extended until 10/16/2023.  Many other deadlines in regard to taxes such as estimated tax payments, contributions to retirement accounts also have been extended by the IRS for federal filing purposes.  California has not announced whether they will conform with IRS federal rules because CA Franchise Tax Board already extended the state filing deadline to May 16.  Stay tuned for CA compliance?  
Clearly, if you are due a refund filing early is better.  See our link below for more details on this IRS ruling.  
For more information go to Extension to file | FTB.ca.gov
and  Emergency tax relief | FTB.ca.gov
Weekly Catch-Up - News Articles That Caught Our Eye
This website is informational only and does not constitute investment advice or a solicitation. Investments and investment strategies recommended in this blog may not be suitable for all investors. SAS Financial Advisors, LLC and its members may hold positions in the securities mentioned within this newsletter. SAS Financial Advisors, LLC is not responsible for any third-party content referenced.
The SAS Newsletters are posted on the SAS Blog weekly: https://www.sasadvisors.com/blog