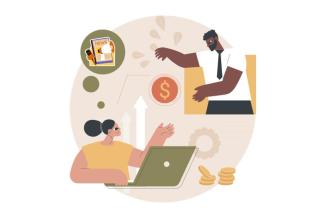 Bad news is good news-AGAIN!
Today, Friday, the employment report reported fewer jobs than expected. OK, we want employment numbers to be strong because that means the economy is strong right!  In today's and I do mean exactly today, not tomorrow or yesterday, weaker than expected employment numbers mean that perhaps, and I say perhaps, this means that the Federal Reserve could be done raising interest rates.  Therefore, stocks rallied yesterday and today to reverse a September and October decline offering us the best week performance this year. 
 Rebound from an oversold market or a longer trend has yet to be determined.  What has really changed?  Perception and short-term indicators and a reactionary stock market looking for positive signs move the market over the short term. Long term indicators based on 10-year earnings still indicate an historically overvalued market.  
Are the record Fed interest rates finally impacting economic activity?  They certainly have an impact on feelings about the economy.  Generally speaking, Americans have negative feelings about the economy with interest rates and inflation being the major factors.  The trend for inflation is significantly lower based on data this week especially compared to a year ago.  Interest rate declines appear in the yield curve and as we have mentioned before, the shift in the yield curve is a bear shift with longer term rates rising and shorter-term rates staying the same.
Another encouraging sign that is of the bad news is the good news variety is wages have stabilized interrupting a trend of higher wages.  Well, don't we think it is good when Americans are making more money?  It is certainly good for main street in the race to keep up with inflation but not so much for Wall Street which is looking for confirmation that inflation will continue declining and previous Fed interest rate hikes are slowing the economy and therefore slowing inflation.  Backwards is forwards and forwards is backwards.  For those of us who are older and read comic books I will make a Superman reference-Bizarro World where everything is backwards/reversed.  
We witnessed the Crypto King downfall this week in another Bizarro World event.  He faces many years in prison in a Ponzo Scheme that could be larger than Bernie Madoff.  At the same time Crypto experienced some large moves up in value this week.  
Apple reported earnings this week that beat expectations but forward-looking business expectations they say will be challenging.  On a day for large advances, Apple stock declined today. 
In the News
Ethiopian-born Virginia teen honored for inventing potential skin cancer-treating soap - ABC News (go.com)
Biden Wants to Make This Big Change to IRA Rollovers (msn.com)
Sell Your Loser Stocks—and Other Year-End Tax Moves to Consider (msn.com)
Americans Can't Stop Spending. Five Reasons Why. - WSJ
I Need Enough Money to Say 'No' to Jobs. How Do I Get That? (msn.com)
It now costs 52% more to buy a home than rent one: 'Never been a worse time' (msn.com)
This website is informational only and does not constitute investment advice or a solicitation. Investments and investment strategies recommended in this blog may not be suitable for all investors. SAS Financial Advisors, LLC and its members may hold positions in the securities mentioned within this newsletter. SAS Financial Advisors, LLC is not responsible for any third-party content referenced.
The SAS Newsletters are posted on the SAS Blog weekly: https://www.sasadvisors.com/blog