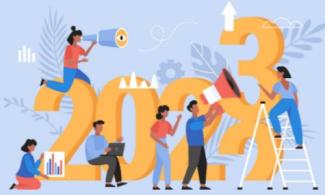 A Big Hello to 2023! As we go into the new year with these big ideas of starting new goals and finishing old tasks, I think it's a good reminder that being in the now is the most important - working on small tasks just to get through our days is awesome work. This also plays into our idea of what this year brings financially - 
we plan and we adjust, and we plan again. We are here for you, in the big or small financial planning needs in your life.
SAS appreciates your engagement in our weekly newsletter, and we wanted to hear from you, what do you want to see more of in 2023? This is an infographic that was compiled of our big SAS Newsletter success last year. We would love to hear from you about your wants in this weekly communication, feel free to let us know the next time you speak with your advisor. 

Market Commentary
New Year is the same as the old year-so far. As we begin 2023, markets are concerned about interest rates and inflation as well as recession. The economy is still a split screen. This week we had Federal Reserve meeting notes released stating that rates will have to continue to go higher and stay higher for a longer time based on continued fears of higher inflation expectations and a stronger than expected labor market.  Evidence of stronger employment was visible as President Biden, Mitch McConnell, the Republican Governor of Ohio, the Democratic Governor of Kentucky and other politicians of both parties touting the 1.7B building of a bridge connecting Kentucky with Ohio.
  As the infrastructure bill starts producing high paying construction jobs, the visibility of inflation continuing at a higher rate concerns the Federal Reserve.  At the same time, we read in our local papers about layoffs at Salesforce of 10% of the workforce.  Same news for Amazon. Inflation expectations have a higher correlation with inflation than the actual inflation rate. A talking tough Fed, more data dependent than ever, directly impacts the inflation rate. That is, provided that tough talk from the Fed turns into the possibility of halting rate increases sooner than markets expect. We continue to monitor the news cycle for more about the Fed and inflation.
In the meantime, with Congress unable to elect a speaker and the seeming chaos, lack of control, and inability to make decisions does this foresee trouble in making critical budget and debt raising decisions?  We have been here before with government shutdowns, and it has not been pretty.  This includes a credit downgrade of US Treasury debt from a previous government shutdown.
Good news is Secure act 2.0 passed making changes that are important to our retirement options.  First, it delays Required Minimum Distributions until 73 immediately affecting some of our clients, as well as increasing catch-up retirement contributions. Second, there is no change to the Qualified Charitable Distributions age of 70 ½. We will more fully discuss provisions that impact you from Secure Act 2.0 in the next few week newsletters.  
Weekly Catch-Up - News Articles That Caught Our Eye
https://www.cnbc.com/2022/12/18/psychologists-morning-habits-to-help-you-be-happier-more-productive.html
This website is informational only and does not constitute investment advice or a solicitation. Investments and investment strategies recommended in this blog may not be suitable for all investors. SAS Financial Advisors, LLC and its members may hold positions in the securities mentioned within this newsletter. SAS Financial Advisors, LLC is not responsible for any third-party content referenced.
The SAS Newsletters are posted on the SAS Blog weekly: https://www.sasadvisors.com/blog