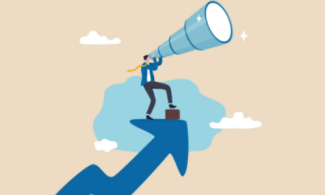 Can't Predict the Outcome, You Can Adjust the Plan
Market Now
"There are two kinds of forecasters: those who don't know, and those who don't know they don't know."– John Kenneth Galbraith
Predicting the future has been a fascination for humans since time began.  Some predictions have actually turned out to be true. For instance, you could say economists are correct with their forecasts 50% of the time. We just don't know which 50% are correct. Each year the Wall Street Journal surveys economists from major wall street firms asking them for forecasts for the next year. This seems to be what readers want. I have never seen an analysis of how accurate these forecasts are overall. Of course, they will name the economist who was closest to being correct for each of the forecasts; interest rates, stock market performance, economic growth/GDP, and kudos to the winner. 
 There is a long list of stock market prognosticators that call accurately, subsequently interviewed on TV having their 15 minutes of fame. Invariably, they never get it right again. A forecaster like Jeremy Siegel who is generally bullish gets it correct 3 out of 4 years because over time markets go higher 3 out of 4 years. The inaccuracy or even the impossibility of giving accurate predictions does not stop individuals from feeling compelled to read forecasts or from forecasters to make them. It makes good headlines. 
Scenario planning is a tool that we use in our financial planning work. At the same time, the only guarantee we make is that our client's plan will change.  A plan is a snapshot in time with the ability to change the input data as life changes. The plan takes into account life issues, emotion and most importantly, facts and data. The plan offers a consistent framework for financial and life decision making. The plan is your plan and will always be unique to you. The purpose of the plan is to increase confidence in your decisions and is not dependent on forecasts of interest rates, stock market performance, or other external variables. 
The IRS has published tax brackets and other tables that are adjusted for inflation. The good news is Federal income tax brackets have been adjusted higher as well as other IRS income levels. The bad news is the reason they have been adjusted is because of the high rate of inflation. 
Click the link here for further detail: https://www.cnbc.com/2022/10/19/irs-here-are-the-new-income-tax-brackets-for-2023.html
Reflection
In times when life has unexpected turns or starts to feel like it's climbing and building up, are you prepared to reflect? How do you take a step back and create the space between now and you. We as a collective always have this intention of being busy, staying busy is fueling success - and if we are not, we aren't doing enough. Sometimes adjusting our idea that stopping, sipping the cup of tea that seemingly felt over filled in turn creates more positive space and perspective. 
Whether it's changing the environment, turning off your phone for a day, or whatever feels good to you. Creating intent to slow down can be so powerful to you beyond the moment. We have some really cool articles about this topic and if you are looking for more resources, reach out to us.
Weekly Catch-Up - News Articles That Caught Our Eye
This website is informational only and does not constitute investment advice or a solicitation. Investments and investment strategies recommended in this blog may not be suitable for all investors. SAS Financial Advisors, LLC and its members may hold positions in the securities mentioned within this newsletter.
The SAS Newsletters are posted on the SAS Blog weekly: https://www.sasadvisors.com/blog