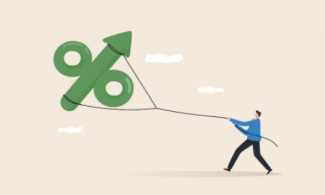 Everything Takes Time, But it's not Forever
Market Now
The big day this week is Thursday when the latest CPI numbers are released. In this case, if CPI is lower than expected that should be good news all the way around. Right now, economists expect a reading of 8.1% down from 8.3% in August. There is no doubt that the impact of the Fed raising rates at a record pace is having a significant impact on the economy however it is delayed. It takes time even at the record increase rate to have the desired impact on the CPI. A couple of Fed governors expressed this feeling this week so there is some awareness that given the resolute statements from the Fed, they will overshoot their goal.
 Jaime Dimon, the chairman of JP Morgan expects a recession is 6 to 9 months. Janet Yellen says the US economy is the strongest in the world. Balance sheets of US corporations are strong, and the banking system is much stronger than in 2009 thanks to regulation changes from that time period. 
Interest rates continue to rise with 30-year mortgages now at 7% or higher. Such Rates have not been seen for many years. Home sellers are pulling their homes from the market because it would be too expensive for them to even downsize. The other side of the coin is 5 year expected inflation has crept up marginally from last week to 2.26%. This data works against our emotions which say if interest rates are increasing now, they will continue to increase forever!  Same with the stock market. Averages are declining and will continue to decline forever. It is hard to see the long term because we get stuck with our emotions making decisions in the short term. 
Meanwhile, the volatility index or VIX remains elevated above 30 with the S&P 500 falling 5 days in a row as of Tuesday. The American Association of Independent Investors sentiment indicator fell this week from last week's annual high. 
There is some movement on Secure act 2.0 mentioned in our newsletter before. The House passed a bill already and the Senate is working on its own version. Major provisions would be a higher catch-up contribution and a delay again in the age to begin Required Minimum Distributions.  We will keep an eye out for you and inform you of the relevant provisions if the legislation comes out of a joint committee by the end of 2022. 
Pew Research did an international survey to discover what makes life meaningful? 17 countries were included, out of which 14 of the 17 responded that family makes life meaningful. Next in general is occupation and having satisfying work experience, but there is more variability internationally. Third is financial security. 
 Here is a link to the survey results and commentary:  https://www.pewresearch.org/global/2021/11/18/what-makes-life-meaningful-views-from-17-advanced-economies/
Weekly Catch-Up - News Articles That Caught Our Eye
This website is informational only and does not constitute investment advice or a solicitation. Investments and investment strategies recommended in this blog may not be suitable for all investors. SAS Financial Advisors, LLC and its members may hold positions in the securities mentioned within this newsletter.
The SAS Newsletters are posted on the SAS Blog weekly: https://www.sasadvisors.com/blog