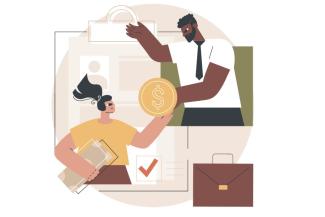 September begins as August began for markets. There are various concerns cited as markets sell off only after markets sell off. Predictions about market movements over the short term before they happen over the short term are pretty useless. They are right in direction 50% of the time and only because of the natural odds.  It is true that historically September and October are months when the stock market declines.  Of course, that is true until it isn't.  
Interest rates continue to stay historically attractive as the economy continues to demonstrate selective strength. The Fed would prefer a slowing economy contributing to reduced inflation numbers.  Well, inflation numbers the last two months are declining but the Fed feels it necessary to be defensive and speak hawkish for the sake of market bond vigilantes. 
2-year Treasuries are now yielding 5%- and 10-year rates remaining above 4%. Mortgage rates remain historically high causing homeowners to hold on to their homes and mortgages with low rates.  Paradoxically this is keeping home prices high because of limited inventory.  Even with the ascribed reason for the decline in markets in September being fear of higher interest rates for longer, the indicators of markets view of the Fed increasing rates has not moved much.  The data point for Fed's increase in interest rates for the next two meetings remains below 10%.  
Historical market indicators such as price earnings ratio and the Shiller ratio remained historically high leaving the short- and long-term market returns at risk as well as the equity risk premium remaining historically low.  
Of course, there are many other concerns such as the commercial real estate mortgage market and bank exposure. With the bank failures earlier this year this risk has not fully played out.  
We are now all using Charles Schwab as our custodian for accounts.  So far so good but it is early. The transition seems to be successful with a few hiccups.  Thank you all for your patience and cooperation during this transition.

In the News
Harvard happiness expert: 3 types of friendships and why you need them 
Why the stock market isn't paying you much right now
BambooHR report finds employee happiness has reached a 3-year low (axios.com)
This website is informational only and does not constitute investment advice or a solicitation. Investments and investment strategies recommended in this blog may not be suitable for all investors. SAS Financial Advisors, LLC and its members may hold positions in the securities mentioned within this newsletter. SAS Financial Advisors, LLC is not responsible for any third-party content referenced.
The SAS Newsletters are posted on the SAS Blog weekly: https://www.sasadvisors.com/blog