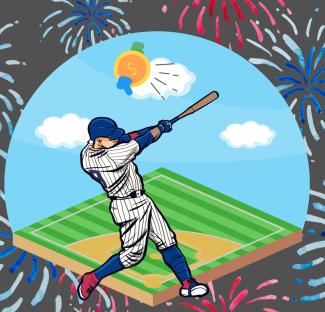 Fireworks, FOMO & future gains
Headline in the Wall Street Journal today is "economy shows surprising vigor in the first half".  Layoffs slowed last week, and 1st quarter GDP growth estimates were increased. Even in the face of increasing interest rates. The Fed is indicating that interest rates could increase a couple of more times this year. Consumers continue to spend on durable goods such as cars and on services such as eating out, travel and health care. Economists are raising their estimates for 2nd quarter growth that ends tomorrow.  
What about that recession that many are predicting will happen later this year?  Are we out of the woods? Is it still a 50/50 chance of happening?  The yield curve inversion, a necessary but not sufficient indicator for a recession, is still in place.  There are still more jobs than job applicants. Housing sales continue to increase despite the rise in mortgage rates.  The Nasdaq is higher by 30% year to date with technology stocks powering the SP 500 to gains of almost 15%.  Further gains could be fueled by FOMO (fear of missing out) as portfolio managers adjust either portfolio to look as if they are positioned to benefit from further stock market gains. Also, Bitcoin has increased in value this year as well as major brokerage houses create bitcoin ETFs. These positive market price developments happened despite bank failures and inflation fears. Another indicator of future gains: The Yankees Domingo Germain pitched a perfect game and 81% of the time a perfect game is pitched markets are higher a year later. Bet you didn't know that fact!  
SAS is growing. We've added two new financial planners, an investment client service manager, and an investment analyst summer intern. Adding two new financial planners results in a material change to our firm ADV. Please find our updated Firm ADV at www.sasadvisors.com/disclosures.
 If you haven't already had the chance to meet and work with our expanding team members, we will be introducing each through our firm newsletter throughout the summer.
This website is informational only and does not constitute investment advice or a solicitation. Investments and investment strategies recommended in this blog may not be suitable for all investors. SAS Financial Advisors, LLC and its members may hold positions in the securities mentioned within this newsletter. SAS Financial Advisors, LLC is not responsible for any third-party content referenced.
The SAS Newsletters are posted on the SAS Blog weekly: https://www.sasadvisors.com/blog