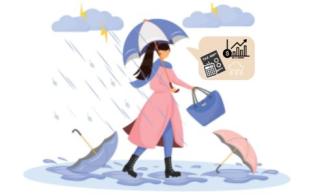 Newsletter 141
For SAS Clients: TD Ameritrade Institutional 1099s are now available online at www.advisorclient.com.
Instructions:
Login at www.advisorclient.com
Navigate to the "Documents" tab.
Then choose "Tax Documents" from the left-hand side tab options.
Market Now:
Stocks edge higher with both the S&P 500 and Nasdaq recording largest weekly gains in over 2 months. Big banks were showing gains and driving up markets. Banks are topping analysts' expectations indicating that banks are assuming larger amounts of consumer financing mostly due to rising interest rates. Tech stocks are still sluggish, and ambivalent indicators don't demonstrate a full recovery soon in technology stock valuations. Are analysts being too pessimistic towards tech stock or not? It's not entirely clear. U.S. treasuries are currently priced well for reasonably safe returns.
Local News:
The Bay Area has entered a rainy season, and though creating much needed precipitation after years of drought, this current series of storms has really pummeled local cities and beyond throughout California. Please stay safe and monitor local weather conditions.
Tax Season:
We've also now entered the early stages of tax filing season which lasts until April 15th, 2023, when all personal 2022 tax returns and any tax payments are due. Employers and banks will begin sending out W-2s and 1099s for tax year 2022. Be sure to keep an eye out for and save all relevant tax documents for your household. One of the ways SAS appreciates working with clients at this time of year, is to review a "draft" tax return after your tax preparer or you complete it, but before officially submitting it and filing the return.
One way is to have a paper file folder called "2022 tax return paperwork" and a digital file folder with the same name. Then as you receive mailed or digital copies, save to the respective folder. Then decide whether you'd like to consolidate to a single paper file by printing or a single digital file by scanning paper forms to your digital file.
If you have an SAS managed TD IRA, Rollover IRA, exclusively after-tax IRA, Roth IRA, SEP-IRA, SIMPLE IRA, or Solo 401k (Individual 401k), please contact your advisor team to make your 2022 IRA account contribution. Limits vary based on whether you and/or your spouse have a work retirement plan and your overall household AGI. Don't forget that non-working spouses may have contribution options too into Roth IRAs and IRAs.
Weekly Catch-Up - News Articles That Caught Our Eye
This website is informational only and does not constitute investment advice or a solicitation. Investments and investment strategies recommended in this blog may not be suitable for all investors. SAS Financial Advisors, LLC and its members may hold positions in the securities mentioned within this newsletter. SAS Financial Advisors, LLC is not responsible for any third-party content referenced.
The SAS Newsletters are posted on the SAS Blog weekly: https://www.sasadvisors.com/blog.