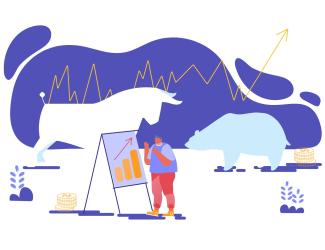 good economic main street news is bad for markets!
The quarter ended with gains across the board for the stock market with interest rates continuing the inversion for 1 ½ years.  Lo and behold, Jerome Powell the Fed chairman has repeated that rates will go higher during his news conference and minutes from the last Fed meeting confirm this view.  Today ADP employment numbers were issued and were much stronger than markets expected.  Result was a big decline in the stock market and higher interest rates across the board.  
Again, good economic main street news is bad for markets!  So good news is bad news right now.  Markets are hoping for an economic slowdown to encourage the Fed to stop raising rates and begin to lower rates because inflation is under control, economic growth moderates, and the job markets cool. A soft economic landing. 
 
 The data is not cooperating at the moment.  Tomorrow the "real employment" numbers are issued by the Department of Labor.  These are more reliable than the ADP numbers.  Let us not forget how well the stock market has performed this year so a pull back from the intermediate highs would not be surprising.  In fact, from the lows back in October 2022 to recent highs we have gone from a bear market up until October to a bull market with this year's gains.  
The so-called "recession" discussed in previous newsletters is longingly referred to by analysts hoping for an economic slowdown as talk of a soft-landing increases.  Our crystal ball as well as Barron's includes purchases such as Champagne, eating out, library visits, lipstick purchases, men's underwear and finally the "French fries" add on index.  Results are champagne purchases tend to decline-not surprisingly-during recessions and sales are down slightly from last year because of an economic slowdown.   Restaurant traffic is slowing down slightly indicating a slowdown. Library visits up slightly indicating a slowdown.  Lipstick sales are higher but might not be as reliable as previously.  Men's underwear sales are higher indicating increased economic activity.  French fry attachment is not good at McDonalds but better at Fry producer Lamb goods.  So much for crystal balls.
News articles that caught our eye
Your Summer Vacation Can Help Your Career - WSJ
                                                       The Retirement Tax Break That Will Pay You an Annual Income - WSJ
This website is informational only and does not constitute investment advice or a solicitation. Investments and investment strategies recommended in this blog may not be suitable for all investors. SAS Financial Advisors, LLC and its members may hold positions in the securities mentioned within this newsletter. SAS Financial Advisors, LLC is not responsible for any third-party content referenced.
The SAS Newsletters are posted on the SAS Blog weekly: https://www.sasadvisors.com/blog