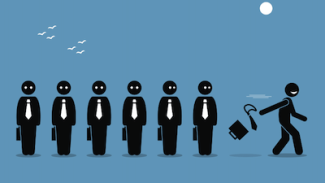 This term emerged because of the huge shift in the workforce since the pandemic began in March 2020. The initial shock to the world of work was massive layoffs as businesses shut down across America. Massive federal government intervention held back some of the economic disruptions in households and businesses. "Quits" as the labor department calls them, are rising in almost every industry.
The Quits surged in April and exceeded that number this past July. The rent moratorium, federal unemployment checks, outright government payments, student loan deferral, and forgiveness untied the handcuffs of many workers in low-paying and unsatisfying jobs felt. Part of the breakdown in the supply chain is one impact from the "Great Resignation." Work/life balance has shifted with so many families working and schooling at home with good and bad consequences but nevertheless, contributing to rethinking work/life balance.
Another consequence of the "great resignation" is the increased power of the workers. This is visible through the increase in union activity and strikes. Some examples are the Hollywood writer's threat of a strike settled this weekend although the contract still has to be approved by members. Also, Kaiser Permanente in Northern CA has a strike pending. John Deere is dealing with a strike by 10,000 workers.
The Cornell University School of Industrial and Labor Relations has recorded 178 strikes so far this year. In the current employment environment where there are more work positions open than workers to fill them, employers are vulnerable to strikes. Employers also know it is less expensive to retain the current workforce than to train new workers. The result is rising wages and the cost of benefits. Part of the increase in inflation is the rising cost of labor.
The argument on the part of workers is to share in the increased profit for their employers who have been reluctant to increase wages and benefits. Not all strikes have been successful but there is no doubt that the workplace, work/life balance, and virtual non-office work cultural shifts are here to stay.
Some speculation with the onset of the pandemic included US manufacturing moving back to onshore. In fact, there is an index created by AT Kearney called the "reshoring index" to track the changes in manufacturing. So far, other than the China tariffs, there has not been a big shift to domestic manufacturing. Now with severe supply constraints in the systems maybe this is a trend worth paying attention to.
2021 Open Enrollment - Dental Insurance
Open enrollment generally occurs once per year for most employers and the main self-serve exchanges, namely www.coveredca.com in the state of California. One benefit offered by many employers, though not all, and a benefit also available for self-coverage in some fashion in many areas, is Dental Insurance. Dental insurance plans come in a few main varieties which may or may not suit your coverage needs for you and or your covered spouse/dependents.

As we approach the 2021 open enrollment period, here are some resources and considerations for dental insurance.
For more information on the types of plans:
Reference link: https://www.bayareahealth.net/understanding-the-different-types-of-dental-insurance-plans/
For more information about options for individually purchased dental insurance options:
Reference link: https://www.investopedia.com/articles/pf/07/dental-insurance.asp
This website is informational only and does not constitute investment advice or a solicitation. Investments and investment strategies recommended in this blog may not be suitable for all investors. SAS Financial Advisors, LLC and its members may hold positions in the securities mentioned within this newsletter.