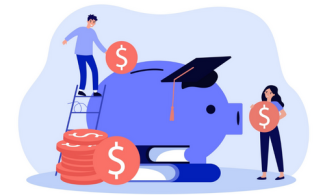 Having The Talk! - About Higher Education, What FAFSA Can Do for You
FAFSA Season starts October 1st, 2022
The majority of Americans pay for college with a mix of current parent and student cash flow (work income), savings, student aid, scholarships, gifts, and student and private loans. Most importantly, student loans have an impact on students and parents. SAS usually recommends parents prioritize a plan for funding their own retirement before prioritizing paying for college, due to the fact that a student can obtain loans to pay for college - retirees, generally speaking, aren't offered such loans.
Even if you can fully fund your child's education, you could consider still having them sign up for one partial loan to learn about credit, debt, and loans. Additionally, there are creative strategies to consider in order for the student to have their own "skin in the game," or their own funds at risk in the decision-making process and execution. It can then be up to you at graduation if you'd like to pay off that loan as a graduation gift, or some other strategy. Loans in general, should be in the student's name.
Whether fully funding the costs of higher education is available or not, all prospective students should complete the FAFSA form. The Free Application for Student Aid form, or "FAFSA," helps aggregate pertinent household information for federal student aid programs. A timely, completed and submitted FAFSA form puts a household and prospective student in the best position to be informed of the federal funding programs for which they may qualify within the school organization they are choosing.
This year, October 1st, 2022 (hyperlink: https://www.nbcbayarea.com/news/national-international/fafsa-season-starts-oct-1-heres-what-you-need-to-know/3014975/), is the start of the time period to complete the FAFSA form. For more information here is an article that explains the process and form well with an easy-to-understand FAQ on how the FAFSA can work for the student and family.
This is an excellent opportunity to begin and complete a FAFSA as well as weave in specific conversations with your prospective higher education student about the ideals and realities of college planning, applications, and expenses.
A great start is privately reflecting on your own experience, along with conversations with your partner/spouse/child's parent/other relevant adults involved in the prospective higher education student's life, attending and funding higher education or not attending. Consider: what went well about your experience? What could have been done differently? How might the landscape have changed compared to now?
Already have student loans or intend to?
Consider this list of helpful resources before, during, and while making payments against your student loans:
Planning and executing higher education funding conversations with your child, honestly and helpfully, can provide the best foundation possible for your prospective higher education student. Seek your child's input and ideas as well, integrate them into the process as they assume their own agency in making what may be the second most expensive decision of their lives.
Rubicon Web Recording
In case you missed our webinar with the the CEO of Rubicon Mortgage Fund, Vance Hilstrom or just wanted to hear more about private lending investment click this link here to access the webinar recording and if you had any more questions, we would love to hear them, Book a meeting at any time.  
 
THE MARKET RIGHT NOW
Markets are sharply down closing out the third quarter of a rocky year.  Historically September/October have not been great months for the stock market.  Though the headlines are blaring with market woes, solid financial planning has taken these types of drops in the market into account.  
Weekly Catch Up - News Articles That Caught Our Eye
*SAS is not responsible for any content on non-paywall links
 *SAS is not responsible for any content on non-paywall links
If we approached every shake of the hand, quick introduction or long interviews with the same idea that this too could mean something to a bigger career move or experience in the future, would the perspective change in everyday social exchange? 
 *SAS is not responsible for any content on non-paywall links
This website is informational only and does not constitute investment advice or a solicitation. Investments and investment strategies recommended in this blog may not be suitable for all investors. SAS Financial Advisors, LLC and its members may hold positions in the securities mentioned within this newsletter.
The SAS Newsletters are posted on the SAS Blog weekly: https://www.sasadvisors.com/blog