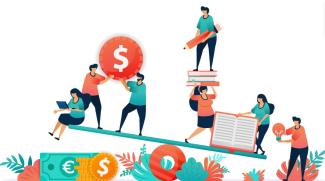 Help! I have student loans! What can I do next?
We want to ask you…
Do you have student loans?

Does your adult child have student loans?

Do you have questions about financing for your higher education expenses?

Do you have questions about financing for your children's higher education expenses?
Follow our link: Student Loan Industry Updates to get insight & watch our webinar with Gradfin to learn more. Let's really understand the NOW in student loan financing together. 
Market Now:
As we near the end of the 1st quarter we can look back at a rollercoaster of a ride however equity markets seem range bound. With a bottom at just below 3900 and a high around 4100. Within that range markets have certainly been volatile.  The dividend discount model that modern markets use to judge a fair stock price depends on a reasonable and reliable projection of future earnings.
 Stock prices in general rise because earnings rise. The continuing uncertainties mentioned all year in our newsletter continue: Inflation, interest rates, earnings, consumer spending, GDP growth or not, increase in the debt ceiling, and now questions about the world banking system. 
Despite the recent bank failures including our own Silicon Valley Bank and the concerns about another local bank First Republic, markets seem to have stabilized.  At the same time as the recent bank failures, interest rates took a tumble even after the Fed's most recent increase in the Fed funds rate!  
WE get to dive into the bad news and the good news algorithm. Bank failures present comes concern about a recession caused by weakness in the financial markets. The increase in banking insecurity because of these failures, the Fed is concerned that the financial systems and consumer spending will be negatively impacted causing a slowdown in economic growth. 
Two weeks before the last Fed meeting markets expected the Fed to increase for a rate increase to ¼%.  Markets were not disappointed.  Even the Fed changed language in their statement and Powell was less aggressive on rate increases in the news conference. Result: a steep decline in rates from 1-2 years in Treasuries in one week post bank failures.  So there we have it.  A first quarter filled with events and ending with flat equity markets, lower interest rates.  Who would have guessed?
Weekly Catch-Up - News Articles That Caught Our Eye
This website is informational only and does not constitute investment advice or a solicitation. Investments and investment strategies recommended in this blog may not be suitable for all investors. SAS Financial Advisors, LLC and its members may hold positions in the securities mentioned within this newsletter. SAS Financial Advisors, LLC is not responsible for any third-party content referenced.
The SAS Newsletters are posted on the SAS Blog weekly: https://www.sasadvisors.com/blog