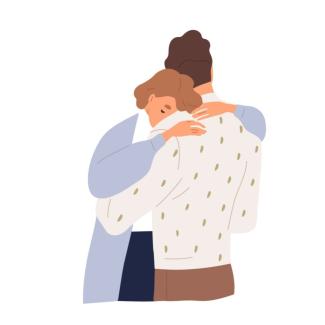 Blueprint for an emergency: 
Nothing like a health event to put this in the spotlight. Here is an aid to begin a cheat sheet as to what to have on deck in an event where:
-Your partner becomes ill and is hospitalized
-A child becomes ill and is hospitalized
-Death of a spouse
-Death of a child
Ask yourself: What do I need to have in place if my spouse becomes disabled and cannot work?!
There is financial preparedness and there is emotional preparedness.  Most of these events come as a surprise.  
Estate Plan (will and trust up to date)

Beneficiaries

Company Equity-Do your RSUs vest at death?

What coverage do you have for short/long term disability?  If you're on

payroll,

chances are you have some coverage through work (Inquire with your benefits provider what percentage of your salary is covered and whether you could pay a premium to cover the difference)

Passwords!  Secured shared

access.

How many accounts are there? where? In whose name? How can you access the funds and what is the highest and best use of each account?

Phone tree for kids

support.

In case of Emergency - fill out on phone

Do minor aged children know who to call in case of an

emergency?

 Make sure children know their address and or that they know where to find where their address is written in the

home.

 Make sure they know parent phone numbers, or at least know where the ICE phone tree is

located.

 Make sure kids know how to dial 911 on a cell phone (especially if you have a code lock on your phone)

Optional- establish a landline so that there is less barrier to access a child to dial

911.

Identify support people ICE, - who could watch your children while you are tending to a spouse in the hospital? Meal train resources?
Resources:
Checklist: Getting Started – Get Your Shit Together
GriefShare - Grief Recovery Support Groups - GriefShare
Resources for Widows - Hope for Widows Foundation
What's your Grief - A Grief Website for the Rest of Us
Grief: Coping with the loss of your loved one (apa.org)
Weekly Catch-Up - News Articles That Caught Our Eye
This website is informational only and does not constitute investment advice or a solicitation. Investments and investment strategies recommended in this blog may not be suitable for all investors. SAS Financial Advisors, LLC and its members may hold positions in the securities mentioned within this newsletter. SAS Financial Advisors, LLC is not responsible for any third-party content referenced.
The SAS Newsletters are posted on the SAS Blog weekly: https://www.sasadvisors.com/blog.