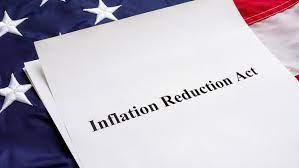 Inflation Reduction Act and Potential Implications
Now that the "Inflation Reduction Act" has moved out of the Senate, we should see the Consumer Price Index move towards zero! Well, it has not passed the House or been signed by President Biden. After that, the CPI will move to zero. Not really of course. Although importantly, in the latest Fed Survey, consumers' expectations of inflation in 2022 is 6.5%, but in 2023 and the next 3 years inflation expectations are 3.2%, a substantial reduction from the June survey. Inflation expectations have a larger influence on inflation than any other factors. It's all about psychology and the mind.  
For historical reference, take a look at what inflation has been in the years leading up to now (Image from usinflationcalculator.com):
According to the US Labor Department data published this month on August 10th, inflation, as of recently, has been the highest it's been since November of 1981.  
If the bill passes the House and is signed by President Biden, which is very likely, what will it mean for you, the consumer?  
Empowers Medicare to negotiate prices for a limited basket of drugs

Extend Affordable Care subsidies

$370B expenditure to reduce emissions that contribute to climate change including subsidies for individuals to purchase electric vehicles with limits on income and location of manufacturing of batteries

Limits Medicare recipient pharmaceutical costs annually to no more than $2,000
For businesses?
Companies with over $1B in revenue will be subject to a minimum corporate tax of 15%. These include companies like SalesForce, Nike, Fedex and 55 of the Fortune 500.  

Utilities benefit from the subsidies to move toward clean energy producing renewable electricity. 
There could be more or less included as the House of Representatives will be voting potentially on Friday. One of the largest benefits would be incentives to purchase electric vehicles with lots of caveats. The IRS provided a list of eligible vehicles based on the limitations in the legislation as passed by the Senate. This is a list of eligible vehicles until the end of 2022. Rules change in 2023, and the reality of the eligibility is based on where the electric car batteries are manufactured as well as the cost of the car and the purchaser's adjusted gross income. Lots of questions still. Not to mention the supply backup and current wait to purchase any new car.  
Turns out another bill was signed by President Biden this week. Not without controversy, the CHIPS bill was signed allocating billions of dollars to the semiconductor industry, including research and development, regional chip manufacturing hubs, and more. The result is that US chip manufacturers such as Intel, Advanced Micro Devices, Qualcomm, and GlobalFoundries are planning to build new manufacturing plants in domestic locations. The controversy is the government picking industrial winners and losers.
On Thursday, Consumer Price Index numbers were announced and the results were lower than expected and markets expecting a trajectory turnaround rallied big. Another head spinning week!  
Housing
Currently, the difference between renting and purchasing homes in the Bay Area is very large, with renting prices on the lower end and purchasing prices on the expensive side. The price-to-rent ratio, as coined by this San Francisco Chronicle article can be an important metric (in partnership with other factors) in the housing market and determining the right choice for housing decision.
Back to School!
For many students this is the last weekend of summer. As a kid I remember summers feeling long and restorative. They felt as though they would never end until I would catch a glimpse of those dang "back to school" advertisements. I don't know if those evoke the same anxiety for everyone, but they sure did for me (Monique) in grade school. As my daughter enters Kindergarten this year, I can't help but recognize that same twinge of anxiety creeping into my psyche, the one I remember feeling as a kid- and I'm not even the one going back to school next week! I was a chronic overachiever in school. Looking back, I know the anxious feelings were all self-inflicted on wanting to do the best I possibly could in every class. I probably would not have been so anxious if I wasn't so enthralled with doing the BEST all the time. I have fond memories of friendships and extracurriculars in school as well. It will be interesting to see how my daughter navigates it all. Happy new school year to everyone returning to the classroom in the next few days!
This website is informational only and does not constitute investment advice or a solicitation. Investments and investment strategies recommended in this blog may not be suitable for all investors. SAS Financial Advisors, LLC and its members may hold positions in the securities mentioned within this newsletter.
The SAS Newsletters are posted on the SAS Blog weekly: https://www.sasadvisors.com/blog