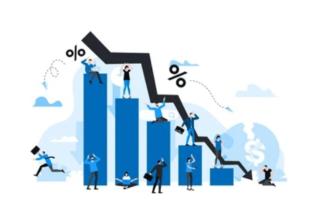 The most predicted recession in our history?
Today 1st quarter GDP was released indicating a slowdown in economic activity. Economic growth slowed to 1.1% in the first quarter from 2.6% in the last quarter of 2022.  Higher interest rates are having an impact on growth and bank failures at the end of the first quarter did not help.  A full 2nd quarter will give us a better indication of the banking landscape.
Consumers continue to power the economy while business spending is slowing down. Most recessions start with the consumer slowing spending and then businesses adjust by slowing production.  This recession flips the usual equation. Of course, if this recession happens it will be the most predicted in our history.  
Here we have conflicting impacts on consumers/business and the asset values like stocks. With the economy slowing, the need for the Federal Reserve to continue raising interest rates declines. Market odds are a ¼ point increase and then no more rate hikes for the rest of the year. In the intermediate term markets will like the halt in interest rate increases.  
Back to talk of recession. With the dramatic economic slowdown in the first quarter. Could a recession be around the corner?  Despite the regular announcements by mostly technology companies, employment remains strong. Layoffs are a lagging indicator so we can't depend on layoffs as a forward indicator.  The last labor report gives us an indication of why the economy is so resilient. Consumers are spending on experiences like travel, eating out, ball games and concerts.  
Massive government fiscal stimulus during the pandemic has helped the US economy avoid recession.  Of course, the fiscal stimulus is ending which impacts economic growth. Both interest rates and the stock market remain in the same range for the past two months.  
Weekly Catch-Up - News Articles That Caught Our Eye
This website is informational only and does not constitute investment advice or a solicitation. Investments and investment strategies recommended in this blog may not be suitable for all investors. SAS Financial Advisors, LLC and its members may hold positions in the securities mentioned within this newsletter. SAS Financial Advisors, LLC is not responsible for any third-party content referenced.
The SAS Newsletters are posted on the SAS Blog weekly: https://www.sasadvisors.com/blog