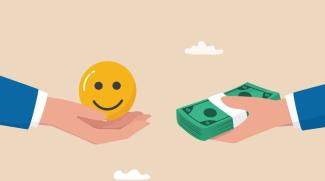 No Shortcut to Happiness - How Can We Get Closer
It's recovery time from the big holiday dinner. Time with family and friends contributes to happiness. Of course, it can depend on your relationship with your family.  We see a continuum of quality and closeness among our clients in relationship with their families. Sometimes families test our patience and bring out lifelong struggles to the table. We had a wonderful, fun Thanksgiving with a couple of close friends with great food and company.
The most important factor in happiness is having the quality of relationships that can provide you with support, laughter, the ability to share what is important to you and the interest in providing the same to them. 
The connection between happiness and the rest of life including money is significant.  Here is a quote: "Indeed, there's multiple studies that back the idea that happiness, positive emotions and cheerfulness precede higher pay, not vice versa. This means that more cheerful and happier individuals with positive outlooks on the future are more likely to perform better at work and therefore, earn higher salaries."
from the article How much money do you need to be happy?
More information about how relationships contribute to happiness:
Good Social Relationships Are the Most Consistent Predictor of a Happy Life - Thrive Global
Market: 
All it takes is Jerome Powell making a speech about interest rates to move both the bond market and stock market. In his speech he talked about a lower raise of ½ point in the Fed Funds rate as opposed to the last 4 rate increases of ¾%.  The Markets focus on the trends, and they are betting that inflation peaked about 30 days ago, after the inflation numbers for November came in lower than October which is lower than markets expected but it was still a very high rate of increase in the Consumer Price Index.
After Powell's speech markets rallied-2% for the Dow 3% for the SP500 and over 4% for the NASDAQ composite. What a difference a day can make. On the last day of November, interest rates fell across the yield curve based on Powell's remarks. Data on the economy is still mixed.  Revised GDP growth for the 3rd quarter was revised higher as layoffs and employment numbers are lower indicating a slowing of the economy. 
An interesting study:  Global 4-day week pilot was a huge success, organizers say | CNN Business
Which Points to the benefits of employees and employers having a 4- day work week. Both employers and employee response were overwhelmingly positive. Check out the CNN link above.
End of year tax ideas from Merrill Lynch: Tax Tips that could save you money 
Weekly Catch-Up - News Articles That Caught Our Eye
Medicare Advantage and Traditional Medicare: A Review of the Literature | KFF
This website is informational only and does not constitute investment advice or a solicitation. Investments and investment strategies recommended in this blog may not be suitable for all investors. SAS Financial Advisors, LLC and its members may hold positions in the securities mentioned within this newsletter. SAS Financial Advisors, LLC is not responsible for any third-party content referenced.
The SAS Newsletters are posted on the SAS Blog weekly: https://www.sasadvisors.com/blog