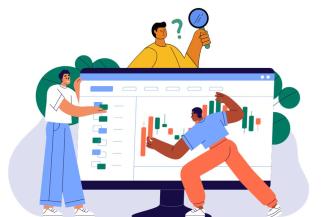 Nothing worse for markets than confusion
The Nasdaq index has entered correction territory with a big decline on Wednesday this week and it looks like the downward trend will continue tomorrow with a disappointing outlook from Meta (formerly Facebook) after the market closed today.  Yesterday, it was the results from Alphabet (formerly Google) from their cloud division that led the market lower today.  
On the other hand, Microsoft offered markets good earnings results with a favorable outlook.  Thes technology stocks have led the market higher this year and they represent a disproportionate % of both Nasdaq and the SP 500.  Although they are very profitable, their stock price has gotten ahead of their earnings, especially with interest rates as high as they are now.  With high interest rates the current value of earnings are diminished.  With the historically current high valuations of stocks based on earnings and the ratio of their prices to earnings or P/E, the expected returns on stocks are at the lower end of history.  
That being said, market timing remains problematic. Time horizons are critical to expectations.  Will timing matter today if your time horizon is 10-20 years to retirement.  Will the stock market be higher when you need the funds?  Today, with yields over 5% up to 2 years US Treasury securities look attractive and longer dated CA tax free and taxable municipal bonds look attractive in the risk vs. reward equation.  
As of today, we have a new Speaker of the House of Representatives.  This is good news in regard to getting the mechanism of law making moving forward.  Most importantly, it seems the new Speaker is talking about passing a new Continuing Budget resolution preventing the next funding/economic crisis of a government shutdown.  
With the war in Israel and Ukraine, high interest rates, mixed messages about the economy, Congressional paralysis and declining inflation in general vs. the increasing gas prices, consumers are confused.  Turns out markets are also confused - there is nothing worse for markets than confusion.  And so recent declines.  
Investing based on politics generally does not work.  It is pretty hard to resist that temptation right now because it seems the world is out of control.  Think back to other politically tumultuous times and the wisdom of investing at that time.  There are often volatile moves in markets over the short term but often they reverse in short order.  So not recommended.  Stick to your plan and allocation.  So many times we hear that the 60/40 portfolio is dead.  Every time I read that the author has no good alternative except trying to time the market in some way.  We know how that works out.
In the News
The Big Mistakes People Make in Medicare—and How to Avoid Them - WSJ
How stress weathers our bodies, causing illness and premature aging - Washington Post
This website is informational only and does not constitute investment advice or a solicitation. Investments and investment strategies recommended in this blog may not be suitable for all investors. SAS Financial Advisors, LLC and its members may hold positions in the securities mentioned within this newsletter. SAS Financial Advisors, LLC is not responsible for any third-party content referenced.
The SAS Newsletters are posted on the SAS Blog weekly: https://www.sasadvisors.com/blog