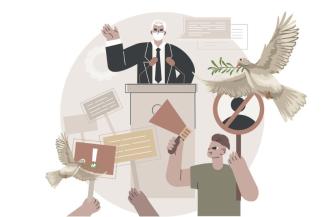 Politics does affect economies.
As I am watching President Biden addressing Americans and the world from the oval office talking about our overseas crises.  This is the worst job in the world or at least the 2nd worst with the Speaker of the House of Representatives taking first place. No denying we have more than our share of challenges at home and abroad. Politics does affect economies but investing based on politics is a very unreliable combination. Part of this lack of reliability relates to emotions. Investing in emotions like fear and greed and the disappointing results of that temptation often have investors walking away from markets in frustration. Our economy continues to give mixed messages. The stock market is reacting to the bond market where intermediate and longer-term interest rates continue to inch higher.  The 10-year Treasury rate approached just under 5% today creating concern in markets. Continued fears of a bear market treasury yield normalization are shadowing stock prices. The bear market treasury yield normalization means that the yield inversion we have lived with for 1 ½ years is beginning to normalize with long term rates higher than short term rates. However, this is being accomplished by rising long term rates not decreasing short term rates which would be a bull market yield curve reversion.  
Jerome Powell, the Fed Chairman today indicated in a speech that rates seem to be moving higher based on his message that rates will stay higher longer to fight inflation.  This increase in rates should have an impact on the economy slowing growth and further slowing inflation.  He gave an indication that rates will not be raised at the Oct 31-Nov 1 meeting.  30-year mortgage rates are at 8%.  The housing market is certainly slowing based on these high mortgage rates.  Consumers keep spending though.  Retail sales numbers earlier this week were impressive as was the last employment report.  If rates head higher by themselves with no push from the Fed and inflation numbers continue to moderate slowly the investment environment of this past June and July could return.  
Lastly, for individuals receiving Social Security benefits, the cost-of-living increase for 2023 is 3.2%
This website is informational only and does not constitute investment advice or a solicitation. Investments and investment strategies recommended in this blog may not be suitable for all investors. SAS Financial Advisors, LLC and its members may hold positions in the securities mentioned within this newsletter. SAS Financial Advisors, LLC is not responsible for any third-party content referenced.
The SAS Newsletters are posted on the SAS Blog weekly: https://www.sasadvisors.com/blog