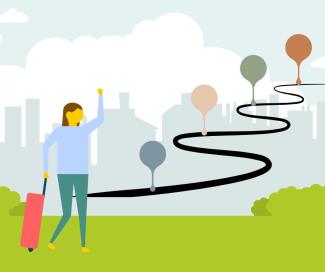 Ready, set, Transition Time!
It feels like we have been in the process of transition for a while now, but the time has come we will fully be over to Schwab as of September 5th. Starting at the end of today TD Ameritrade will be accessible for reading only. Here are some reminders of what to expect as we become part of Charles Schwab & co. 
Today, Sept 1st, is the last day to initiate and Move Money, deposit checks, use checks or debit cards as well as trading through TD Ameritrade. 
If you do any trading today, you will receive paper trade for all trade placed on this date even if opted for electronic.
Starting Tuesday September 5th your access to your account will be through schwaballiance.com , If you haven't set up your credentials through Schwab Alliance please do so. If you already have an existing Schwab Login & Password, you can login with those credentials.
If you do need to set up Schwab login, go to schwaballiance.com select the New Schwab User - follow the instructions, if you would like to use your existing TD Ameritrade login, please enter that information after clicking New Schwab user. This is also a good time to download the Schwab Mobile app on your device using your Schwab credentials. - Making it easier for future mobile deposits. 
To establish ACH connection 
Regular Mail
Charles Schwab & Co., Inc
P.O. Box 982603
El Paso, Texas 79998

Overnight Mail
Charles Schwab & Co., Inc
1945 Northwestern Drive
El Paso, Texas 79912


Schwab's Direct Deposit Routing Instructions 

Financial Institutions Name: J.P. Morgan Chase/Account of Charles Schwab
Address: 211 Main Street, San Francisco, CA 94105
Phone: 1-800-435-4000
Schwab's Direct Deposit Transit-Routing Number: 071000013
Account Number: 593853800 + personal 8-digit Schwab brokerage account number
Account Type: Checking

Wires
For proper credit - include the eight-digit account number & name(s) listed on the Schwab account. 
For Institutions

Bank Details 

Bank Address

Inside the U.S

U.S Dollar 

Currency only 

Citibank N.A., New York

Routing number: 021000089

FBO: Charles Schwab & Co. Inc.

Account number:4055-3953

399 Park Avenue

New York, NY 10022

Outside the U.S

U.S Dollar

Currency only 

Citibank N.A., New York

SWIFT ID: CITIUS33

FBO: Charles Schwab & Co., Inc

Account number:4060-7595

399 Park Avenue

New York, NY 10022
If you have any questions, please don't hesitate to contact your advisor. This is a new journey for all of us and we are so glad to experience this journey into Schwab with you.