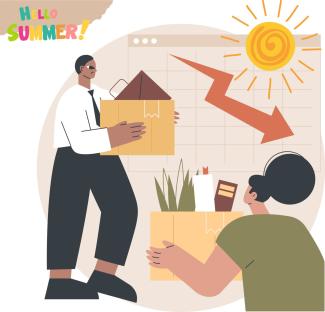 Recession yes, or no? Roll the dice.
Recession yes or no, no, or yes?  Roll the dice.  A recession is when friends, acquaintances, and family lose their jobs.  Depression is when you lose your job. The uncertainty of the economy seems like it has gone on forever. Even with two consecutive quarters of negative GDP growth in 2022, the classic definition of a recession, didn't seem to convince the powers that be that we were in a recession.  Turns out it seems that there is a 50/50 chance and the only mistake we can make is to think that we know for certain one way or the other.
I have often discussed the yield curve as an indicator of the direction of the economy. We have endured this negative yield curve with the negativity steepening to the point where the 3-month T-Bill yield exceeds the 10-year Treasury rate by 1.5%. This is one of the strongest indicators of an imminent recession.  There are still expectations that after a record setting increase in interest rates by the FED, they are not done.
 "Don't fight the Fed" is a Wall Street mantra. The Fed goal is to slow the economy.  Ideally, they want a soft landing with an economic slowdown and no recession. Lending standards are tightening, consumer confidence is declining, and banks are failing.  
On the other side of the scale are the employment numbers and their release caused the stock market to gain the most it has in 2023. The supply chain bottleneck has eased as indicated by new car deliveries. This was a major problem causing inflation and negative economic sentiment.  The anxious index calculated by the Philadelphia federal reserve, a year ago: The Anxious Index: Survey of Professional Forecasters
Indicated a high degree of certainty that a recession was imminent.  It is a survey of professional economic forecasters.  Research in regard to forecasters confidence shows that like all of us, they are subject to a bias of overconfidence. The same overconfidence exists in the semiannual economic forecasts in the Wall Street Journal.  
The only mistake to be made is to be too certain about any forecast.
SUMMER!
Most students are officially on summer break.  As an adult, it's a bit annoying to have to remind yourself it is summer.  Thinking back to childhood and how loooong and freeing those long summer days felt, this is a reminder to relish the extra daylight hours, warm afternoons and evenings regardless of what the economy chooses to do. 
This website is informational only and does not constitute investment advice or a solicitation. Investments and investment strategies recommended in this blog may not be suitable for all investors. SAS Financial Advisors, LLC and its members may hold positions in the securities mentioned within this newsletter. SAS Financial Advisors, LLC is not responsible for any third-party content referenced.
The SAS Newsletters are posted on the SAS Blog weekly: https://www.sasadvisors.com/blog