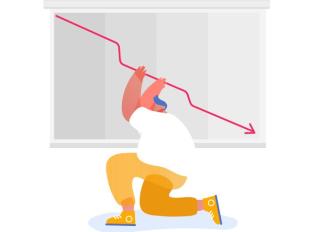 So far in August, the choice is a stock market decline.  
As rates on the 10-year Treasuries climb, stocks are no longer moving higher.  This week, the Fed Open Market meeting minutes indicate that the Fed is not convinced inflation is under control.  The stock market expectation that the Fed will pause rate hike and perhaps begin to lower helped stocks move higher. 
 Today, 30-year mortgage rates moved higher than 7% for the first time in many years making a home purchase for Americans out of reach.  Are higher interest rates filtering through to the general economy? As rates climb for Treasury securities the stock market equity risk premium-the added return on stocks above the risk-free rate of return (Treasuries)-continues to not be attractive enough for investors to increase risk by buying stocks.  Either interest rates need to fall, or the stock market needs to decline to offer a more historically appropriate equity risk premium. At least so far in August, the choice is a stock market decline.  
With the August rally 401k balances are making more workers millionaires.  Not so true in China where the economy is slowing down, and a major real estate lender has declared bankruptcy.  The state subsidized real estate market in China is standing on thin ice as well as deflationary fears rearing their ugly head. China will recover but more slowly because the economy is controlled by the government.  Nevertheless, their economy certainly has an impact on the whole world including the US.  
Senator Dianne Feinstein's husband Richard Blum passed away recently.  Headlines in the SF Chronicle have outlined the conflict between the Senator as the surviving spouse and Mr. Blum's children.  In fact, the entire trust was published in the newspaper defeating one of the main advantages of a trust which is keeping affairs private.  Not many individuals have the complications of Mr. Blum's financial and personal life but having an estate plan that accurately reflects our desires and addressing potential conflicts effectively is important.  
In the News
how to let go of self-sabotaging money beliefs.
How to Divvy Up What Your Heirs Want and Get Rid of the Rest (msn.com)
Dianne Feinstein's family feud has lessons on elder financial abuse (sfchronicle.com)
Americans say the political system is broken. These forces help explain why. - The Washington Post
This website is informational only and does not constitute investment advice or a solicitation. Investments and investment strategies recommended in this blog may not be suitable for all investors. SAS Financial Advisors, LLC and its members may hold positions in the securities mentioned within this newsletter. SAS Financial Advisors, LLC is not responsible for any third-party content referenced.
The SAS Newsletters are posted on the SAS Blog weekly: https://www.sasadvisors.com/blog