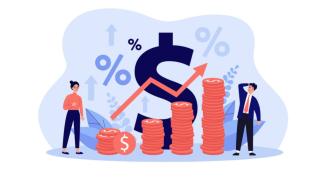 The department of labor released the latest inflation numbers today and they were persistently high but not quite as bad as they could have been. Markets see-sawed in the morning this week moving from down close to 1% to all 3 indexes in positive territory after about an hour of trading. Market averages continued to be volatile all day ending mostly negative. 
Trying to figure out this economy is impossible.  Catherine Rampell has a column in the Washington Post with the headline "Don't Believe What Anybody Says About the Economy Including Me". She is the economics columnist for the Washington Post. She talks about the futility of forecasting but more importantly the mystery about what is going on in the economy now. Inflation numbers looked terrible for the first half hour today and looked better for the next half hour. 
 Employment looks historically strong while inflation lingers at historically high levels. Everyone is looking at the same data, but the truth is relative. In this case even the facts are relative because of the voluminous amount of data which is non-stop.  The year is still positive for markets and was positive for bonds but with the high inflation numbers the 6-month US Treasury Bill just crossed 5%. More important than markets and interest rates are financial planning decisions.  
One decision I made is that my San Francisco condominium property taxes are too high relative to the San Francisco real estate market. Basically, my condo value has decreased, but my property taxes don't reflect that decrease in value. It is not an easy task to have your property reassessed and deadlines are important, but it is an example of how strategy and financial planning at large are the needle movers in this type of environment Here is the website for the pdf in English application. 
Informal Review Application (English) | CCSF Office of Assessor-Recorder (sfassessor.org)
They state that they prefer to have the application completed online but there was a technical problem that would not allow me to complete and submit the application, so they recommended I print it and submit via scan and email which I did.  They did confirm receipt.  It is an informal assessment, and they will not be reviewed until after the March 31 deadline for submission and results of the review will not be sent until review of assessment due to the homeowner by July 31, 2023.  If you think your property has declined in value check this out.  I believe each county has its own application process for reduction in property assessment. This is one way to take advantage of a year in which asset prices have declined. 
Weekly Catch-Up - News Articles That Caught Our Eye
for further resources please visit Beyond Money: Mental Health and Additional Resources for more in regard to mental health.
This website is informational only and does not constitute investment advice or a solicitation. Investments and investment strategies recommended in this blog may not be suitable for all investors. SAS Financial Advisors, LLC and its members may hold positions in the securities mentioned within this newsletter. SAS Financial Advisors, LLC is not responsible for any third-party content referenced.
The SAS Newsletters are posted on the SAS Blog weekly: https://www.sasadvisors.com/blog