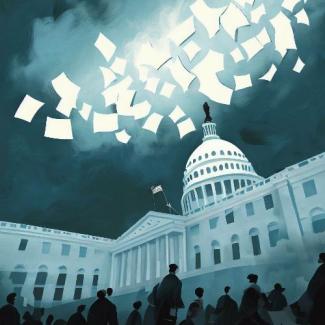 Who will be blamed? History says Congress.
Another Fed rate increase and another bank failure. Just another ho-hum week for markets. They moved the Fed funds rate to 5-5.25% while First Republic Bank was taken over by the FDIC and then purchased by JP Morgan Chase with all deposits secured,1st Republic branches remain open and functioning, borrowers continue to pay loan payments and JP Morgan Chase gets even larger. 
 Other regional bank stock prices continue to suffer while the Fed changes its language to infer this could be the last interest rate increase for the time being. Depends on data going forward. There are signs that inflation is slowing but not enough to satisfy the Fed so rates will stay high until the Fed is comfortable with the inflation rate. Certainly, bank failures and concern about the banking system will act as brakes on the economy but evidence of that impact is not very visible yet.  
More importantly, we have the debt ceiling issue coming fast. Janet Yellen, the Secretary of the Treasury and former Fed Chairperson has stated that we could reach the debt ceiling by June 1. There are many serious consequences for failing to raise the debt ceiling. Importantly, the debt ceiling needs to be raised in order to pay for debts already incurred.
The debt ceiling has nothing to do with the budget.  Those negotiations should happen separately. Republicans in Congress want to use the leverage of the debt ceiling to negotiate a reduction in spending. President Biden wants a no strings debt limit increase and then in budget negotiations between Congress, the President and Senate deal with Congress's requests.  The two sides have now scheduled negotiations for next week.
  The predictions if negotiations fail is pretty serious including failure to pay military, social security, Medicare/Medicaid payments not to mention interest and principal on government debt. Also, a steep decline in stock prices and a further increase in interest rates.  This will not be pretty.  Who will be blamed?  Well, history says Congress will feel the brunt politically and blame wise.  Next week will tell us more.  
Weekly Catch-Up - News Articles That Caught Our Eye
This website is informational only and does not constitute investment advice or a solicitation. Investments and investment strategies recommended in this blog may not be suitable for all investors. SAS Financial Advisors, LLC and its members may hold positions in the securities mentioned within this newsletter. SAS Financial Advisors, LLC is not responsible for any third-party content referenced.
The SAS Newsletters are posted on the SAS Blog weekly: https://www.sasadvisors.com/blog