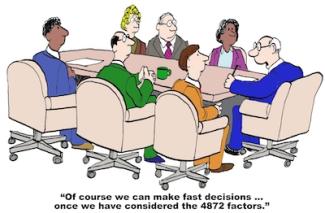 The year's start: a bang or a whimper
Stocks have sold off in the first couple of weeks in anticipation of the Fed following through with either 3 or 4 interest rate raises in 2022 based on concern about inflation and confidence that the economy is in sound shape-whatever that means. Does their analysis include the omicron impact on the economy? So many questions and few answers.
Jason Zweig in his weekly column in the WSJ says "I think the best investment for 2022 will be discipline." Discipline, in the sense of being able to stick to a set of rules, is a constant challenge. Present/current event bias is hard to dismiss. It is easy to get distracted by all the noise we live through every day. Little behavioral nudges become more important to maintain the guardrails that allow you to focus and maintain some elements of discipline.
Daniel Kahneman a famous behavioral economist wrote a book called "Thinking Fast and Slow." He differentiates between decisions that need to be made quickly and decisions that need more deliberation. Making decisions quickly, for those decisions that are best made deliberately, increases the possibility of bad decisions. When considering the positioning and allocation of your portfolio in the context of financial planning, movement in markets is not the critical element in changing allocations.
A financial plan provides guardrails for decision-making that help differentiate between decisions that need to be made quickly and those that require or are more effectively made with deliberation. A decision to reallocate your portfolio would be prompted by a change in your life situation. The purpose of a plan is to take into account current and future decisions in regard to personal finances and create the most appropriate framework within which to make the best decisions possible at the time. The financial planning process provides this framework to make the best decisions in the future.
    The best investment idea for 2022 is "discipline."
The Federal Reserve
Today the current Federal Reserve chairman testified in front of the Senate committee responsible for voting on his nomination. He testified that the economy is strong enough to tighten monetary policy meaning raising interest rates and a halt of the bond-buying program instituted in 2020 at the start of the pandemic. The tightening by the Fed will push interest rates higher and should begin to reduce inflation, according to the Fed. Given that economists are correct with prognostication 50% of the time, will this be the correct 50% strategy? Based on history the odds are probably 50% that any one of their predictions is true. 
 
Upcoming earnings season
Speaking of prognosticators, later this week several banks will be reporting to kick off earnings season. Three major banks will be showing how rising interest rates and the economy is fairing in the financial sector. Of course, last quarter will not include many indications in regard to the impact of omicron on the economy. Barron's today points out that Wall Street might be too rosy in its earnings prediction. Earnings are at the core of stock valuation so once wait let's wait and see.
SAS Investment Management Clients: 2021 Form 1099 Anticipated Delivery Schedule
TD Ameritrade would like to keep you informed as to the estimated availability dates for the tax year 2021 tax forms.
To help make sure SAS Financial Advisors' clients receive their tax documents as soon as they are available, clients are encouraged to sign up for electronic tax form delivery. Clients can sign up for e-delivery of tax documents by logging into www.advisorclient.com, then clicking My Profile > Communication Preferences.
Clients can find the tax documents on advisorclient.com by simply clicking the appropriate document on the Statements & Tax Documents menu. 
Listed below is useful information pertaining to the anticipated dates that 2021 Consolidated Form 1099s will be available to be viewed online.
■Delivery of 1099s: Currently, we expect the first wave of 1099s to begin posting online on January 21, 2022, with Advisor and client notifications going out shortly after. The estimated dates for the waves are below:
■Correction Cycles – Begins March 3, 2022, and occurs every 2 weeks through April 14, 2022
All dates are estimates and subject to change
■1099 Notification: Once these 1099s have been posted online, advisors will be notified that they are available. Clients that have enrolled to receive their 1099's online, will also receive an e-mail notification.
■For clients receiving paper documents, they should allow several days for mail delivery after these forms have been posted online.
To balance clients' desire to receive their documents earlier and with an effort to minimize the chance that a client would receive a corrected Form 1099 (potentially requiring the refiling of tax returns), clients may be excluded from the first four waves for the following reasons:
■A client held securities such as mutual funds, Unit Investment Trusts (UITs), or Real Estate Investment Trusts (REITs), which may reallocate payments (for example, from long-term capital gains to short-term capital gains) in January and beyond.
■A client held an investment instrument that is considered to be a Widely Held Fixed Investment Trust (WHFIT), such as a Commodity Trust or Royalty Trust, where there is a possibility of additional information being provided by the company.
This website is informational only and does not constitute investment advice or a solicitation. Investments and investment strategies recommended in this blog may not be suitable for all investors. SAS Financial Advisors, LLC and its members may hold positions in the securities mentioned within this newsletter.
The SAS Newsletters are posted on the SAS Blog weekly: https://www.sasadvisors.com/blog