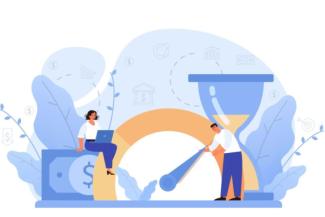 Anticipation by markets that the bill raising the debt ceiling, having passed the House on a bi-partisan basis, is about to pass the Senate and become law before the US Treasury runs out of the ability to raise funds has boosted the stock market through the top of the range over the past 9 months.  Earnings and forward-looking guidance by semiconductor companies is powering the NASDAQ averages.  A word of warning: even with the outstanding opportunities based on Artificial Intelligence technology, semiconductor stocks are overvalued. Powering the markets higher are technology based on solid earnings and on the value side, bank failures and concern about the credit system.  
As far as the economy is concerned, questions remain about the pace of economic growth as well as inflation. Germany entered a recession last week with two quarters of slightly negative GDP growth. Although it looks as if the UK will avoid recession in 2023 economists are concerned about 2024 because of very high persistent inflation.  As far as our own economy is concerned, inflation is coming down slowly and part of the reason is that corporations are taking advantage of inflation by keeping prices high even though the logjam in the supply chain has pretty much disappeared and there might be room to reduce prices.  When was the last time you noticed a price for a product, good or service came down.  Even if inflation declines do, we really think corporations will lower their prices?  The only time prices decline that we notice is for gas.  Otherwise, when prices are increased, they stay increased.  
If any of you opened Apple Savings accounts managed by Goldman Sachs, are you having trouble withdrawing or transferring funds?  Apparently, this is a problem making the front page of the Wall Street Journal.  Rates on older online savings accounts are very competitive and transferring and accessing funds is not a problem.  Probably not worth the extra return for the hassle.
Did you know that Charles Schwab purchased TD Ameritrade back in 2019? For current SAS investment management clients, all of your accounts will move over to the Charles Schwab platform Labor Day 2023. Labor Day weekend, both TD Ameritrade's www.advisorclient.com and Charles Schwab Alliance client website. for up-to-date information visit our page: Merge to Schwab | SAS Financial Advisors, LLC 
Weekly Catch-Up - News Articles That Caught Our Eye
This website is informational only and does not constitute investment advice or a solicitation. Investments and investment strategies recommended in this blog may not be suitable for all investors. SAS Financial Advisors, LLC and its members may hold positions in the securities mentioned within this newsletter. SAS Financial Advisors, LLC is not responsible for any third-party content referenced.
The SAS Newsletters are posted on the SAS Blog weekly: https://www.sasadvisors.com/blog.