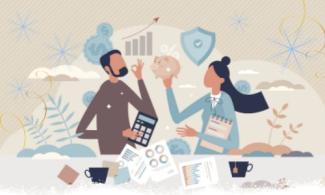 Farewell 2022, Cheers to 2023
Happiest Wishes into the Holidays & New Year
The SAS team is taking some time for family, holidays, and celebration between Christmas and New Year's so be aware that we will have limited access and give us some time to respond to any needs for the next week.  We will check emails periodically and would appreciate holding any non-emergency issues for the New Year.  
A great big thank you to our clients and especially the team at SAS Financial Advisors, LLC. This year was a year of business growth, an economic slowdown, a pandemic and asset value declines. A head spinning year for sure. The battle of main street vs wall street continues.
 For instance, the economic news on Thursday was generally good.  A revision up for economic growth in the 3rd quarter.  Economic growth is good right! Turns out continued economic growth means more interest rate increase and markets think that further increases in interest rates mean a higher likelihood of recession.  
Remember, your plan does not change based on market conditions. Our goal is to be strategic and opportunistic when it makes sense, and this has been a year to harvest tax losses to use in future years.  Tax loss harvesting is making lemons into lemonades. It is also a year where interest rate increases created opportunities in fixed income that we are taking advantage of. It is also opportunistic and has not really been available recently.  
As far as changes in your financial plan, that is based on your changing lives and goals.  
Congress is poised to pass Secure Act 2.0 as part of the Omnibus spending bill. The Senate has passed the bill and the House is expected to pass the bill tomorrow with President Biden signing it tomorrow as well.  The deadline for passing is tomorrow. Most importantly, there are some retirement changes such as increases in retirement plan catch-up contributions as well as an increase in the RMD age to 73.  We will offer more details in the New Year that will affect financial/retirement planning.  Have a safe, healthy and happy new year from the SAS Team.
If you would like to get ahead to meet with us about 2023, follow the link here to book into the New Year just click on the headshot and it will bring you to our calendar. Also below the headshots on our client page are access links to our plan software, portfolio tools & TD Ameritrade.
 If you have any questions about TD accounts, we have a FAQ page link here 
Weekly Catch-Up - News Articles That Caught Our Eye