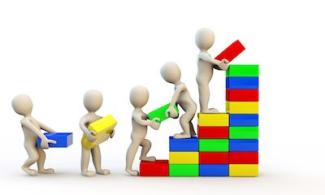 Growth: Markets and Your SAS Advisor Team
Growth: Markets
Economic uncertainty has increased from high to off-the-charts this week. Key events:
As the Federal Reserve announced an accelerated reduction in bond purchases as well as the strong possibility of accelerating interest rate increases, the Omicron variant of Covid-19 descended upon the United States.
The original cause for tightening money at an accelerated rate was the persistent increase in inflation through the consumer price index and producer price index. 
As of today, 73% of the new Covid-19 infections last week were identified to be caused by the Omicron variant.
Shutdowns, closings, postponements are responses throughout the world mirroring the responses to the previous Delta variant surge in cases.
Biden's economic and social agenda experienced a setback with Senator Joe Manchin declaring on Fox News that he would not vote for the Build Back Better bill as currently proposed. Immediately, major Wall Street firms and economists reduced their expectations for GDP growth for 2022 and going forward. Economists also poured cold water declaring that BBB is unlikely to aggravate inflation. The spending is spread over 10 years and it is expected to add to GDP. This is truly a moving target, and there is no definitive way to predict the future, but any expectations of the size and scope of the almost $2T bill seem to be off the table.
Investment Management
Forecasting the economy and markets is not what we value because our clients are looking for long-term returns that exceed inflation at a reasonable, though lower, risk level, because we use low-fee index funds and capture most of the major market indices' movements. Looking forward to 2022, the economy is expected to continue to maintain positive GDP numbers and maintain assets valued at historically high levels. Will that run continue? Investors are becoming used to double-digit returns, but should they adjust their expectations going forward?
Dividends and distributions are likely to play a bigger role in returns going forward. With benchmark interest rates also at record low levels, dividend-paying stocks and other income-oriented securities are important to consider as part of your portfolio. Even with low-interest rates, bonds do provide stability and lower volatility risk in portfolios so we continue to purchase individual bonds.
Out of Office
Our office will be on vacation between Christmas and New Year's and back in full on Monday, January 3rd, 2022.
Next week, we are taking a break from our newsletter and resuming weekly again in the New Year.
During this time, someone from the team will be checking in once per non-holiday weekday to maintain client service levels for any remaining, last-minute, and critical end-of-year tasks.
Email info@sasadvisors.com and address your email "Attn: Ira" for any urgent requests.
Helpful Links:
Growth: Your SAS Advisor Team
The SAS advisor team is growing by one more advisor! Minna Fernan, Esq. is joining SAS Financial Advisors in January 2022. As well as practicing as an attorney, with a focus on Estate Planning, Trust Administration & Elder Law, Minna also serves as a Professional Fiduciary. For many years, SAS has known, worked with, and served Minna and her fiduciary clients with portfolio investment management.
Based on our successful professional working partnership with Minna, we were honored to offer Minna a place on the SAS advisory team and even more honored that she accepted. We are very excited to welcome Minna to our SAS Financial Advisors financial planning team. She has completed the coursework and is qualified to sit for the test to certify as a CFP® registrant in the future. In the new year, we will continue to share more about Minna Fernan and how these provided services will help round out SAS Financial Advisors' holistic and comprehensive offerings for our clients.
A Lighter Note
As we wind up the year we are getting "best of" in the news. Here is a fun watch from the NY Times of the greatest sports plays/moments of the year: https://www.nytimes.com/2021/12/20/sports/best-sports-highlights-2021.html
This website is informational only and does not constitute investment advice or a solicitation. Investments and investment strategies recommended in this blog may not be suitable for all investors. SAS Financial Advisors, LLC and its members may hold positions in the securities mentioned within this newsletter.
The SAS Newsletters are posted on the SAS Blog weekly: https://www.sasadvisors.com/blog